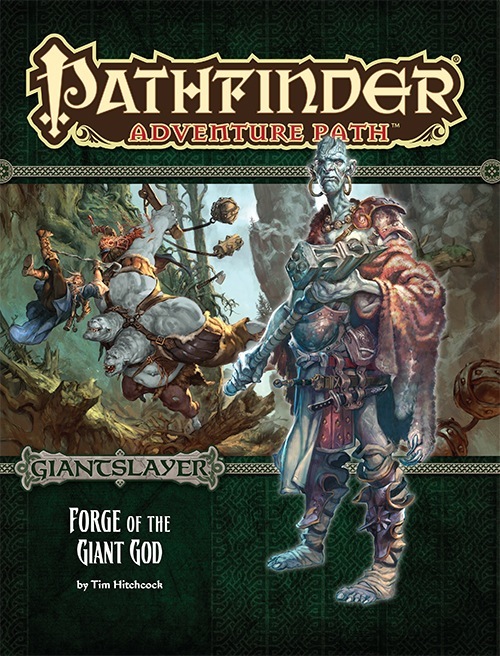 I began reading Forge of the Giant God (the third part of the Giantslayer Adventure Path) by Tim Hitchcock about a year ago, and got through roughly half of it. I didn't stop because I disliked it; it was just the state my life was in at the time (see this post for details). Over the next several months, I occasionally went back to it and got through a little bit more of it each time. I thought I eventually made it all the way through, though when I came back to it last week with the intention of reviewing it, I discovered a bookmark (one I thought I'd misplaced) about three quarters of the way through. Assuming I was wrong about finishing it, I picked up reading from that spot.
And was thoroughly confused.
Some things seemed familiar as though I'd read them before and others seemed completely new. More importantly though, I realised I really didn't have a good enough recall of even the earlier parts of the adventure I knew for a fact I had previously read. This served as a pretty good example of why you should never spread out the reading of something like this over a year with months-long breaks. So I decided to do what I should have done as soon as I picked it up again last week, and that was to reread the entire thing beginning to end.
And I'm glad I did. I came away from it with a higher opinion of the adventure than I had before. I remember previously really liking the opening section of the adventure and disliking the rest. However, this time around, I liked it more. I do still think there are some issues, but they don't bother me as much they did. The adventure is a little too similar to the previous adventure, The Hill Giant's Pledge, in that both involve sneaking into a similar giant-controlled location (and The Hill Giant's Pledge does it better). Following up one adventure with another that does virtually the same thing runs the risk of making things stale for the players. However, there are things to make this adventure more unique, and good GMs should be able to make it into a memorable experience.